Gun Possession at Miami International Airport – Criminal Charges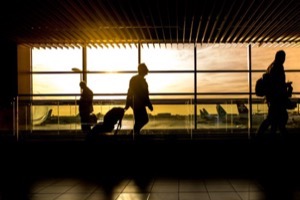 Miami International Airport, also known as MIA, is one of the biggest airports in Florida and the international flight hub for the Southeastern U.S., with more than 1,000 flights logged daily. It's also where dozens of firearms are confiscated and passengers arrested for bringing them illegally to a TSA checkpoint. The TSA reports nearly 90 percent of confiscated guns are loaded.
As our Miami firearms possession attorneys can explain, passengers who bring guns to airport checkpoints are subject to civil sanctions by the TSA (Transportation Security Administration), a federal agency, as well as criminal arrest by local police.
F.S. 790.06(12)(a)14 prohibits anyone – even those with concealed carry licenses – to carry firearms inside the passenger terminal and sterile area of any airport. Yet three Florida airports (Fort Lauderdale-Hollywood International Airport, Orlando International Airport and Tampa International Airport) are among the top 10 for weapons seizures – with record-setting gun confiscations in recent years. The Miami Herald reported that in one recent year, there were more than 4,400 firearms seized from carryon bags at airports nationally – an average of about 12 daily. The TSA reported it happens at least once a day in Florida.
In most cases, the gun-toting traveler had no criminal intent. Sometimes, the firearm owner is in just as much shock as the TSA employee when a weapon is pulled from their bag. Nonetheless, these cases need to be taken seriously.
Defendants can face anything from a second-degree misdemeanor or a third-degree felony, the difference usually being whether he or she has a concealed carry permit. (Keep in mind, Florida doesn't recognize concealed carry permits from all states and not all states recognize those from Florida.) A second-degree misdemeanor carries a penalty of up to 60 days in jail while a third-degree felony could mean up to five years in prison and a $5,000 fine.
The main goal for a Miami firearms possession lawyer will be to get those charges reduced or dropped because a felony on your record can have substantial, long-term consequences.
Whether you are a Florida resident, snowbird or visitor, securing legal representation from a local Miami defense lawyer familiar with state and federal law is an imperative.
Is it Ever Legal to Have a Gun in an Airport?
The law does not allow passengers to carry guns – concealed or in open view – into any passenger terminal of the airport. That's the entire terminal – both before and after you reach TSA security checkpoints. If you're outside the terminal, picking up or dropping off someone, you aren't barred from carrying a gun (assuming you're otherwise legally allowed to do so). State law gives those with a legal firearm to store it in their secured vehicle, which would apply to any airport road, parking or lots.
Passengers can legally travel with both ammunition and firearms, but they:
Among those regulations, passengers need to make sure any firearm, magazines, bolts, clips, firing pins and ammunition are securely locked in a hard-sided container. Weapons should be unloaded. Your gun can't stay with you on the flight, but you should hang on to the lock box key. Instead, every weapon you travel with needs to be in your checked luggage and must be declared to the airline.
Some airlines may have additional rules.
I Accidentally Brought My Gun to Miami International Airport… Now What?
Police officials in Miami-Dade have been quoted as saying there is a zero-tolerance policy at MIA.
"Some people just forget," said one lieutenant. "We understand people make mistakes, but this is very serious. We can't take any chances."
If you accidentally bring a gun to the Miami International Airport, it's important to talk to a lawyer right away. Those who have a gun confiscated by the TSA are likely to be arrested by police on at least one of the following charges:
Carrying a concealed weapon (other than a firearm) without a permit. 1st degree misdemeanor (up to 1 year in jail).
Carrying a concealed weapon with a permit in a restricted area. 2nd degree misdemeanor (up to 60 days in jail).
Carrying a concealed firearm without a license. 3rd degree felony (up to 5 years in prison).
Carrying a firearm into an airport terminal. 2nd degree misdemeanor (up to 60 days in jail).
Anyone arrested at the Miami International Airport on gun charges should consult with an attorney as soon as possible. What happens if you accidentally bring a knife or a gun in your carry-on bag? You can be arrested even if what happened was a complete accident. That said, these offenses require state prosecutors to prove you KNEW you were in actual or constructive possession. It is often the case that defendants did not know, which can be the basis of a strong defense.
On top of this, you'll face a $13,000 fine from TSA.
An experienced criminal defense lawyer will first and foremost work to have the charges dropped, if possible. Depending on the circumstances, we may work to negotiate a favorable plea deal involving lesser charges, lower fines and less (if any) jail time. It's less common for criminal cases to go to trial, but we will make sure we're preparing from day one to do so if necessary. And we'll help you argue to have the fine dropped or reduced as well.
We offer aggressive defense in these cases, and we fight to ensure this does not become a dark cloud that follows you for years to come. Our Miami criminal defense lawyers know well Florida gun law and Florida gun owner rights and we are committed to making sure our clients reap the benefit of the best possible legal representation.
If you have been charged with a gun crime or weapons offense in South Florida, contact the Miami Criminal Defense Lawyers at The Ansara Law Firm by calling (877) 277-3780.