Fort Lauderdale Criminal Defense Lawyer
Accusations of criminal conduct can upend your life, affecting everything from your finances to freedoms. Whether you have never previously been accused of a crime, have numerous prior convictions or are facing serious criminal charges, The Ansara Law Firm, headed by Fort Lauderdale Criminal Defense Attorney Richard Ansara, is committed to helping you obtain a favorable outcome.
Our principle focus is serving clients throughout South Florida – including Broward, Miami-Dade and Palm Beach Counties – to defend against accusations of state or federal crimes. Armed with extensive knowledge of federal and Florida statutes, case law and trial experience, we provide our clients with meticulous, aggressive representation. Our clients are well-informed on case progression and receive prudent, thoughtful legal advice and guidance.
Clients successfully represented by our criminal defense lawyers in the Fort Lauderdale area have faced accusations of:
Our skilled legal team is committed to fighting to protect your rights and further your best interests. We work to help our clients suppress damaging evidence, negotiate advantageous plea bargain agreements, reduce the scope and scale of punishments and fines, avoid conviction (where possible) and apply for expunction of criminal records, per F.S. 943.0585.
If you are under investigation, charged with a crime, need to be released from jail or looking to clear your records, our criminal defense attorneys in Fort Lauderdale can help. We recognize an arrest – whether misdemeanor or felony – is a frightening, helpless experience. The prospect of jail, prison or the loss of your professional license or driver's license is anxiety-inducing, and we do not take lightly the responsibility with which we are entrusted.
Although courts are constitutionally required to provide criminal defense lawyers for indigent defendants, many will not meet that criteria. Further, while there are many effective public defenders, they tend to be overworked, and the turnover rate is high – meaning your case often gets lost in the shuffle. Seeking your own private defense attorney – one with a proven track record of success in the area of law pertaining to your case – is an invaluable investment in your future.
---
DUI
The Florida Department of Law Enforcement (FDLE) reports approximately 32,000 DUI arrests are made annually in the Sunshine State. But an arrest does not equal conviction. With the help of an experienced DUI defense lawyer in Fort Lauderdale, you may be able to circumvent the worst of those consequences – potentially even avoiding conviction.
F.S. 316.193 prohibits both:
Driving under the influence of alcoholic beverages, any chemical substance or any controlled substance to the extent one's normal faculties are impaired;
Driving with a blood-alcohol level of 0.08 or more grams of alcohol per 100 milliliters of blood or 0.08 grams of alcohol per 210 liters of breath.
Chemical testing is usually conducted by either a blood draw or breathalyzer test – both of which have their own history of technical and statutory issues. Further, what constitutes as "impairment" may be subjective, particularly when there is no chemical evidence to support these assertions. This leaves much room to challenges a DUI charge, on top of what may be alleged regarding illegal traffic stops and wrongful searches and seizures.
Offenses involving drunk driving accidents, injury and death are especially serious, carrying minimum mandatory prison terms. Additionally, one who flees the scene of a deadly accident – even if impairment can't be proven – will face the same four-year minimum mandatory prison sentence under F.S. 316.027 as one accused of DUI manslaughter.
---
Drug Crimes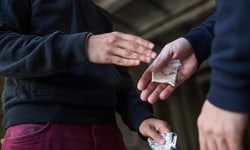 There are 115,000 drug arrests in Florida annually, mostly for low-level offenses like possession, according to FDLE.
In Florida, drug offenses are usually charged as either misdemeanors or felonies, though some possession offenses may be civil infractions, depending on municipal or county ordinance. For example, Broward County allows civil citations for low-level marijuana possession, though law enforcement officers still have the option of making an arrest.
Our Fort Lauderdale criminal defense lawyers have successfully defended many clients accused of such offenses, employing legal strategies that range from challenging the validity of traffic stops and search methods to negotiating favorable plea bargain terms.
Penalties for drug crimes is dependent on a myriad of factors, including whether an alleged sale or distribution was involved, the type of drug and how much. Prior criminal convictions may also come into play. A conviction for a drug trafficking offense can result in decades behind bars, but even a lesser conviction can completely alter your life, negatively affecting not just your wallet and your temporary freedom, but also your housing, education and employment options well into the future. We work to minimize the effect of these allegations on your life.
---
Sex Crimes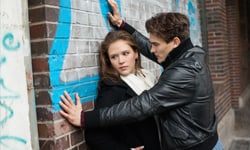 Sex crimes accusations are among the most denigrating. Defendants are understandably eager to clear their name, but the consequences of talking to authorities without a criminal defense attorney can be extremely detrimental to their case.
Although our justice system prioritizes innocence until guilt is proven, accusers in sex crimes cases tend to get the benefit of the doubt, with investigators and prosecutors pursuing these cases with a vengeance. This includes allegations of rape, child sex crimes, harassment/ stalking, prostitution, failure to register as a sex offender, dissemination or possession of child pornography, lewd/ lascivious behavior and human trafficking.
Fort Lauderdale sex crimes defense attorneys at The Ansara Law Firm recognize that even in the face of seemingly insurmountable evidence, there are always legal options to mitigate the damage. Our goal first and foremost will be dismissal of charges. In the absence of that, we will work toward fighting for the elimination of certain offenses or reduced penalties. This is important because in addition to the stigma-inducing sex offender registration under F.S. 943.0435, the Jimmy Ryce Act, codified in F.S. 394.912, imposes involuntary civil commitment of offenders deemed sexual violent and likely to reoffend.
The criminal defense lawyers at our Fort Lauderdale firm will vigorously and aggressively defend our clients against accusations of sex crimes. Defendants in these cases cannot afford an attorney with extensive experience and skill.
---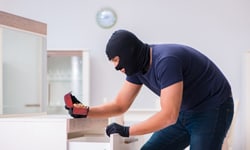 Theft and Property Crimes
Theft and property crimes are among the most commonly-charged offenses in Florida. Theft defense attorneys at The Ansara Law Firm are committed to helping our clients obtain the most favorable possible outcome.
The term "theft" can encompass a range of crimes, from minor to serious. Broadly, F.S. 812.014 defines theft as occurring when a person knowingly obtains, uses or tries to obtain or use the property of another with the intent to deprive the rightful owner of that property or appropriate it for the use of someone not entitled to it.
In addition to the basic theft statute (which covers larceny, petit theft, grand theft and embezzlement), numerous other statutes cover theft-related crimes, such as burglary, robbery, credit card fraud, shoplifting/ retail theft and carjacking. The severity of a Florida theft charge will depend on the value of the property taken, the type of property, how many defendants were involved and whether defendant has a prior criminal record. Penalties may be further enhanced if the theft involved taking property by force, a firearm or a gang.
Theft requires very specific evidence to prove guilt according to statute. An experienced defense lawyer can help successfully challenge these accusations.
---
White Collar Crimes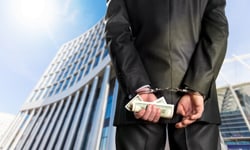 White collar crimes are those that involve the commission or conspiracy to commit any felony theft or fraud. "White collar" bit of a misnomer in that crimes under F.S. 775.0844(3) aren't always strictly committed by those in high-powered professions. However, such acts do tend to be more sophisticated than the average robbery by sudden snatching, and typically involve much more money than the average theft crime.
White collar crimes include forgery and counterfeiting, issuing worthless checks, exploitation of the elderly or disabled, racketeering, financial transaction offenses, insurance fraud, pyramid schemes, extortion and embezzlement. They frequently involve the use of advanced technology, and police and prosecutors pursue these cases aggressively, with many seeking grants and special training to be more effective. Aggravated white collar crimes are those that involve two or more offenses, 20 or more other people, 10 or more elderly victims or any government agency or subdivision.
You should know that just because no one was physically injured in a white collar crime does not mean you won't do hard time. Most white collar crime defendants are facing between 5 to 30 years in prison – in some cases even more. Sentencing guidelines will depend on the type of crime, how much was stolen, how many victims were involved and a defendant's own criminal history. Avoiding conviction is the primary objective in these cases. In the face of substantial evidence, that can mean negotiating a plea for reduced charges and penalties. You need a white collar crimes defense attorney in Fort Lauderdale deft in navigating these complex cases and familiar with the local players. Our years of experience has yielded proven results, making The Ansara Law Firm is one of the most trusted names in South Florida criminal defense.
---
Domestic Violence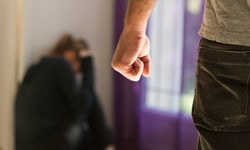 Disputes among spouses, loved ones, relatives and housemates are among the most common type of call for police service. They are also among the most over-charged. As cultural attitudes about domestic violence have shifted, law enforcement officers are under increasing public pressure to make an arrest when responding to these calls. But arrest isn't always warranted. Evidence is often limited to "he-said-she-said," and may not hold weight in a court-of-law.
Still, given the potential consequences – including severe criminal penalties, relationship strain and effects on employment and housing – it's imperative to consult with an experienced Fort Lauderdale domestic violence defense attorney.
Three-fourths of all domestic violence arrests are for simple assault, which is a second-degree misdemeanor under F.S. 784.011. This is punishable by up to 60 days in jail, as well as fines and court-ordered rehabilitation programs. Harsher penalties and long-term consequences may follow cases where an alleged victim is seriously injured or there is stalking involved or the incident marks one in a string.
Arrest does not equal conviction. With the aid of a criminal defense lawyer experienced in handling domestic violence cases, you have a better chance at reduced penalties and possibly dismissal of charges.
---
Internet Crimes
The launch of the "world wide web" in the early 1990s changed nearly everything about modern society – how we work, communicate, share information, socialize – and in the way crimes are committed. It's not so much that "old-fashioned" street crimes dissipated as the internet opened the doors for more opportunity and different ways to commit many of the same crimes.
Internet crimes tend to fall into one of two categories: Theft/ fraud and sex crimes. The primary difference between internet crimes and these core offenses is that internet crimes – while having a tangible impact – occur with the aid of computer technology. It can include offenses like identity theft, illegal marketing schemes, hacking, phishing, child solicitation, child pornography and even human trafficking. Computer-related crimes are outlined in Florida Statutes 815.01- 815.07.
Fort Lauderdale internet crime defense attorneys at The Ansara Law Firm are committed to helping our clients devise a strong defense, particularly given that these crimes are often felonies and penalties can include decades in prison.
---
Juvenile Crimes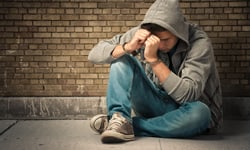 When a person under 18 is charged with a crime in Florida, the matter is usually handled in the juvenile justice system. The primary difference between the juvenile justice system and the adult criminal justice system is the goal: With adults, the goal is to penalize. With juveniles, the objective is to rehabilitate.
However, as our Fort Lauderdale juvenile defense attorneys can explain, prosecutors sometimes will "direct-file" a case to adult court, per F.S. 985.557. Certain forcible felony offenses, such as arson, sexual battery, robbery, kidnapping, aggravated child abuse, manslaughter, murder and more, require mandatory direct file. Prosecutors do, though, have broad discretion to direct-file other cases too. Once a child is transferred for criminal prosecution via direct file, the court immediately transfers and certifies to the adult court all felony cases pertaining to that child.
If your child is charged with a juvenile offense, it can have a lasting effect on their future. Our dedicated Fort Lauderdale criminal defense lawyers are committed to mitigating those effects.
---
Violent Crimes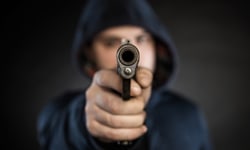 Violent crimes are those offenses carried out with physical force, often resulting in severe injury or death. However, the lack of physical injury doesn't necessarily exempt a crime from a designation of violence. Although violent crimes may be charged as misdemeanors in some instances, they are primarily felony offenses, meaning convictions can result in substantial prison time. Some may even be capital offenses, meaning you could be facing life imprisonment or death.
Examples of violent crimes include: Rape, robbery, arson, assault and battery, homicide and manslaughter.
At The Ansara Law Firm, our Fort Lauderdale violent crimes defense attorneys work to identify more than one avenue of defense in these cases. This involves tactics ranging from suppression of unfavorable evidence to challenging key witnesses against you to skilled negotiation of a plea bargain involving reduced charges.
It's imperative before you discuss your case with authorities that you first consult with an experienced criminal defense lawyer.
---
Personal Injury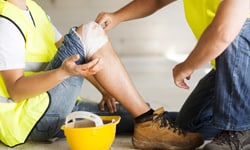 In addition to representing criminal defendants, our firm also provides guidance and advocacy to accident victims. Our Fort Lauderdale personal injury lawyers are committed to fighting for the rights of people who have been hurt in car crashes, slip and falls, accidents caused by defective products, situations involving medical malpractice, and other accidents. If you have been hurt because someone else was at fault, you may be able to get compensation for your medical bills, lost income and earning capacity, property loss, pain and suffering, and future costs. However, there is a strict statute of limitations in Florida for these claims, so you should consult an attorney without delay after an accident.
In most of these cases, your attorney will need to prove that the defendant acted carelessly and that you were hurt as a direct result. For example, a driver who runs a red light or a doctor who fails to conduct a proper differential diagnosis may be held liable for harming someone else on the road or a patient under their care, respectively. These cases often require the testimony of expert witnesses and a broad range of documentation to illustrate the extent of the harm that the victim suffered. Our personal injury lawyers can help residents of Fort Lauderdale and the surrounding areas gather evidence to prove their claim and vigorously advance their interests.
---
Our experienced criminal defense lawyers in Fort Lauderdale are prepared to answer your questions in a free consultation we provide as a courtesy to prospective clients.
Contact Fort Lauderdale Criminal Defense Attorney Richard Ansara at The Ansara Law Firm by calling toll-free (877) 277-3780.